A FULL SERVICE SHARPENING WORKSHOP FOR EVERY KIND OF EDGE IN YOUR LIFE


BUSINESS HOURS AT THIS TIME OF COVID AT THE WORKSHOP ARE BY APPOINTMENT ONLY. THERE ARE LOCKERS SET UP FOR CONTACTLESS DROP OFFS AND PICK UPS AT THE SHOP DOOR.
7819 Northville Rd. Thedford, ON
PLEASE CONTACT FOR AVAILABILITY.

We are back to a temporary lockdown AT THE MARKET @THE WESTERN DISTRICT. Arrangements can be made for pickups and delivery, along with mail-ins.

SARNIA- THE DOWNTOWN MARKET @ 140 CHRISTINA N, WE WILL BE SET UP FOR KNIVES AND SCISSORS ON THE SPOT THE 2ND AND LAST THURSDAY OF EACH MONTH 10-4

----------------------------------------------------------------

BUSINESS HOURS:
MON, TUES & FRI AFTERNOONS APPOINTMENT ONLY
for pickup and delivery,
or sharpening at Main Workshop.

TWO THURSDAYS/ month are at THE DOWNTOWN MARKET Christina N,
SARNIA. (2nd and last Thursday.) 10-4

Contact for sharpening service, info on products, or mail-in info.

SEASONAL MARKETS MAY-OCTOBER
Due to covid-19, all our regular venues of outdoor markets have been cancelled for the season of 2020


ontariosharpening.com
over 30 years experience in the sharpening industry!

Like us on Facebook at: https://www.facebook.com/RW-Sharpening-and-Repair-Services-RedneckWorthy-938554582855132/?ref=ts&fref=ts
After over 30 years in the Sharpening industry, I have decided to change up the way my business operated. Don't get me wrong, being 2nd generation in a wonderful family business with a great reputation is a good thing. However, it's time for me to go down my own road, my way, and allowing myself to intertwine the passions of all aspects of the life that makes me good at what I do.
What is my passion, you ask? Sharpening! ( Repairs, of coarse, too) IT'S ALL ABOUT THE TOOLS ! Your tools, my tools, and possibly your customers tools. With confidence, I can honestly say that as I stand at my bench and work away, I am a happy girl. There's nothing like taking something dull and possibly broken and making it better than new. And to have the knowledge behind me for all these years is even more awesome. I have customers that have known me for over 30 years. How great is that!
PROFESSIONAL SHARPENING AND REPAIR SERVICE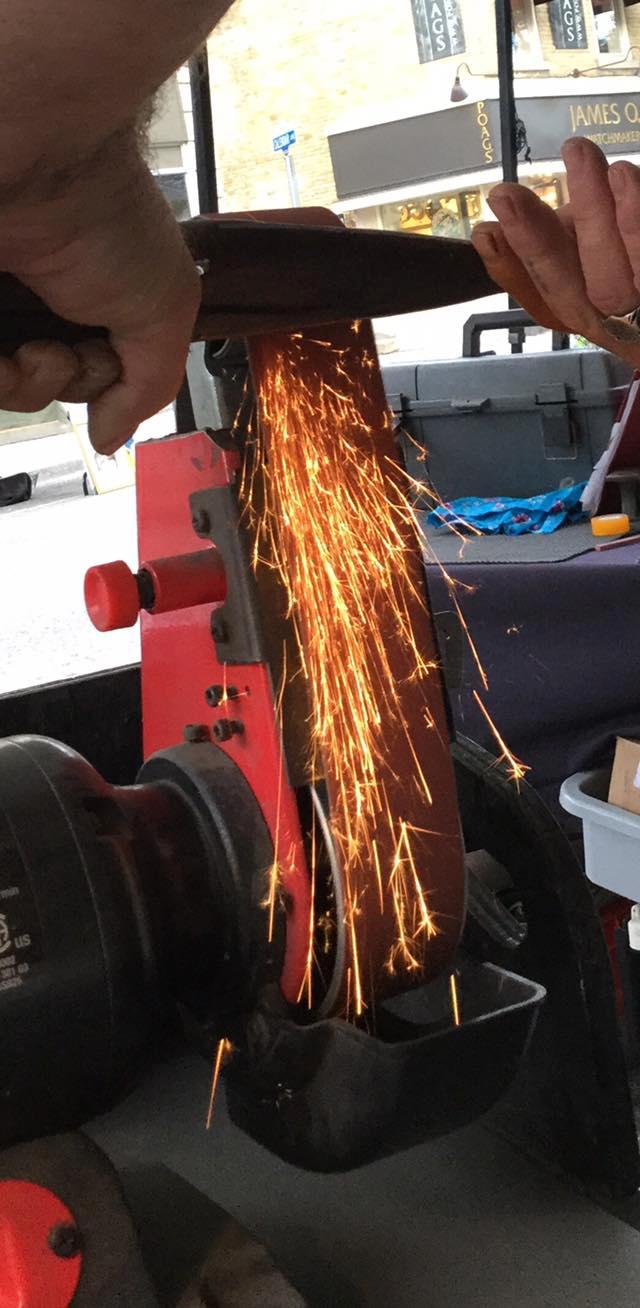 The shop is in the Thedford, Arkona area of Lambton Shores. I am on the road for PICK UP AND DELIVERIES, SAME DAY SERVICE FOR SOME REPAIRS, SCISSORS AND KNIVES, and open to appointments for pickups to be on that schedule. Blade sharpening is next day delivery, in most cases.

Inquire about DROP OFF LOCATIONS that are possibly convenient to you. However, there is also the option of MAILING YOUR EQUIPMENT, having a turn around time is 24-48 hours. COME SEE US at THE MARKET at the WESTERN FAIR DISTRICT SATURDAYS 8-3, and SUNDAYS 10-2 and get your scissors and knives done while you shop. Some other sharpening done there as well, and possibly some simple repairs. What I can't do on site, drop off and will be done at the workshop.
If you would like to come to me, let me know when is best for you and we will make it happen … Appointments at workshop are MONDAY, TUESDAY OR FRIDAY afternoons only.
HOURS OF BUSINESS ARE FLEXIBLE ON THE ROAD AND IN THE WORKSHOP… CUSTOMER NEEDS ARE WHAT DETERMINES THE WHOLE DAY!